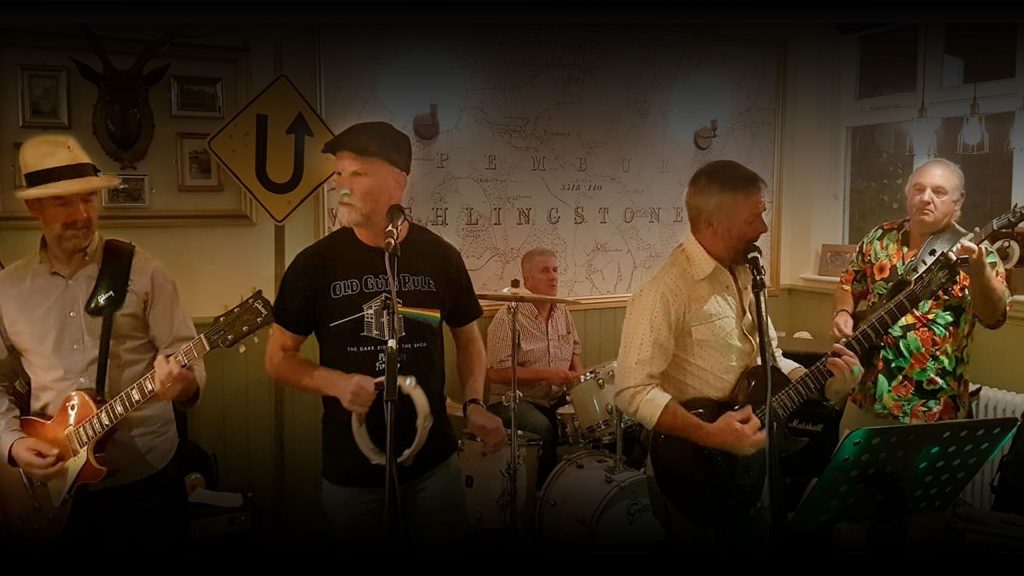 Playing indoors at a music festival
We played indoors at the final festival of the summer at The King William IV Pembury, Kent. The music festival was to raise funds for charity The Jay Harmer Foundation who U-Turn have supported on two previous occasions this year. The event was sponsored by Hofmeister, the recently resurrected retro beer.
We were given an hour for the headline slot which was rather nice to do. Lots of people got up dancing and enjoyed themselves, so in fact we ended up playing for over an hour! Our rhythm section included debutant Mark Ironmonger on bass to keep a nice punchy beat cranked out through his Marshall stack.
Date: 31st August 2019
Time: 9.45pm to 11pm
Gig Number XV
Venue: King William IV, Hastings Road, Pembury, Kent
Set duration: 1 hour +
Vocals / Rhythm Guitar: Chris Bampton
Lead Guitar: Neil Rigby
Vocals / Blues Harp / Guitar: Tim Veysey-Smith
Bass: Mark Ironmonger
Drums: Del Johnson
U-Turn Set
Long Grey Mare – Fleetwood Mac
Cocaine – JJ Cale / Eric Clapton
Messin' with the Kid – Junior Wells / Buddy Guy
Sweet Home Chicago – Robert Johnson / Eric Clapton
That's What Love Will Make You Do – Gerry Garcia Band
Feelin' Alright – Rare Earth
Move on Up – Curtis Mayfield
I Can Tell – Dr Feelgood
Crossroads – Robert Johnson / Cream
I'm So Glad – Cream
Louie Louie – The Kingsmen / Motörhead
All Summer Long – Kid Rock
Useful links