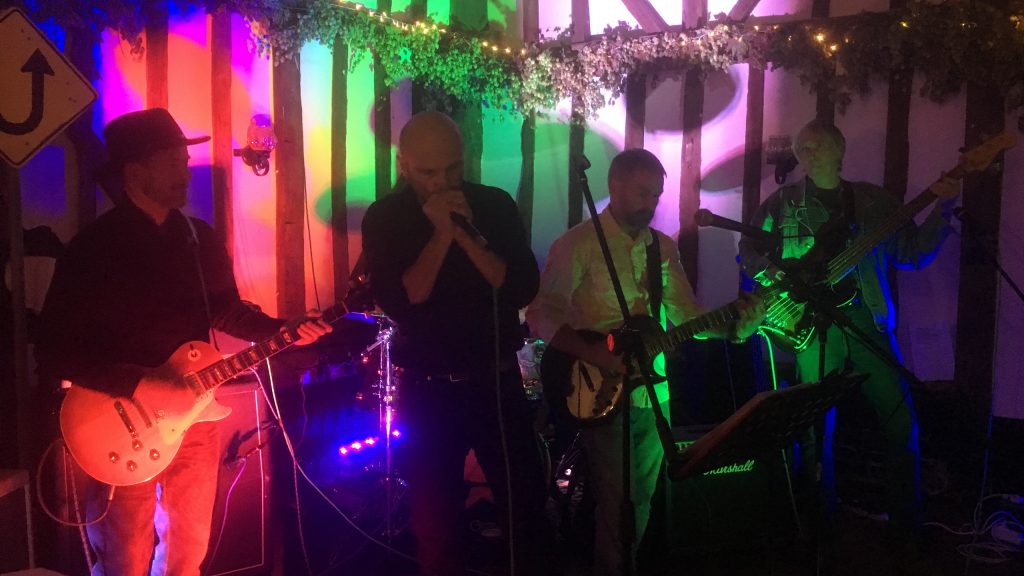 Playing in a stunning barn at a Charity music night
We played at The Plough at Leigh in their impressive barn for a charity music night in support of Chasing Connor's Cure charity.
We were asked at very short notice to play by organiser Lucy Barber of The Expandables – we'd been on the same bill before at another charity event, so U-Turn seemed worth asking! They were in desperate need of a band, so we agreed and managed to get a line up together with less that 24 hours to go – thanks to Paul Whitehead stepping in on drums to make his debut. Paul's a regular at Jam @TheGun so already had played most of the songs.
Lucy joined in with some of our songs, so got to play after all, and we had a lot of fun playing together.
Half Moon Panic were headlining and very kindly agreed to lend us their gear to cut down on hassle and change over time. They are a local three piece blues/rock band comprising of Taj Mian on guitar, Russ Stevens on drums and Gerard Jacques on vocals/bass. They played an excellent set for about two hours – worth a look if you see them playing locally.
All in all it was a good night for the charity and we were happy to help out and make it happen.
Date: Friday 4th October 2019
Time: 8.15pm to 9.00pm
Gig Number XVI
Venue: The Plough in Leigh
Set duration: 45 minutes
Vocals / Rhythm Guitar: Chris Bampton
Lead Guitar: Neil Rigby
Vocals / Blues Harp / Guitar: Rob Smith
Bass: Pete Billing
Drums: Paul Whitehead
Special Guest: Lucy Barber (vocals)
U-Turn Set
After Midnight – JJ Cale
Long Grey Mare – Fleetwood Mac
All Summer Long – Kid Rock
Feelin' Alright – Rare Earth
Every 1's a Winner – Hot Chocolate
Groove is in the Heart – Deelite
Rappers Delight – The Sugarhill Gang
Move on Up – Curtis Mayfield
Louie Louie – The Kingsmen / Motörhead
Useful links