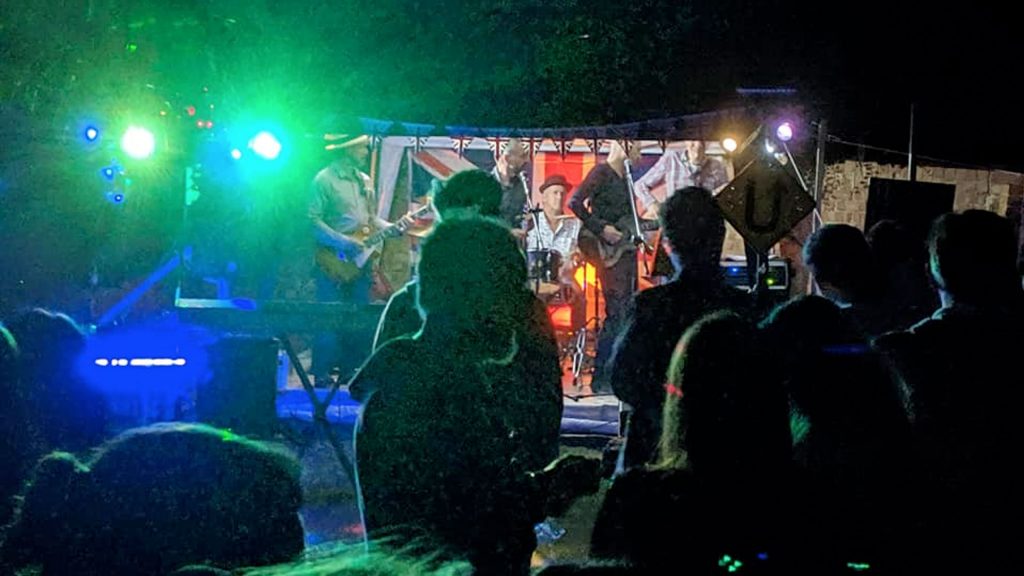 Playing outdoors at a private party
We played outdoors again, this time at Pinstock Music Festival, a private party in Horsmonden. The gig was set in a walled garden with stage, lightshow and even its own beach! We played for an hour and a half in warm summer evening weather and were joined by Paul Roberts on keyboards for Peaches by The Stranglers. Local band Rude Susan also played at Pinstock.
We didn't get the best starting conditions after Tim had to drop out with illness about an hour before start. However, we were able to adjust the set and get Rob to sing a few to help Chris out. I don't think those there noticed but here it is for the record!
Paul Star DJ was MC for the night and was responsible for the fantastic light show, cool vibes and fantastic stage set-up. He specialises in Garden Parties and mixes unique sets based on your taste.
Date: 30th August 2019
Time: 8pm to 9.30pm
Gig Number XIV
Venue: Horsmonden
Set duration: 1.5 hours
Vocals / Rhythm Guitar: Chris Bampton
Lead Guitar: Neil Rigby
Vocals / Blues Harp / Guitar: Rob Smith
Bass: Pete Billing
Drums: Del Johnson
Special Guest: Paul Roberts (keyboards)
U-Turn Set
She Caught the Katy – Taj Mahal / The Blues Brothers
Long Grey Mare – Fleetwood Mac
All Summer Long – Kid Rock
Feelin' Alright – Rare Earth
Crazy – Gnarls Barkley
Every 1's a Winner – Hot Chocolate
Get Down Saturday Night – Oliver Cheatham
Rappers Delight – The Sugarhill Gang
Peaches – The Stranglers (Paul Roberts on keyboards)
Cocaine – JJ Cale / Eric Clapton
Move on Up – Curtis Mayfield
Louie Louie – The Kingsmen / Motörhead
Useful links