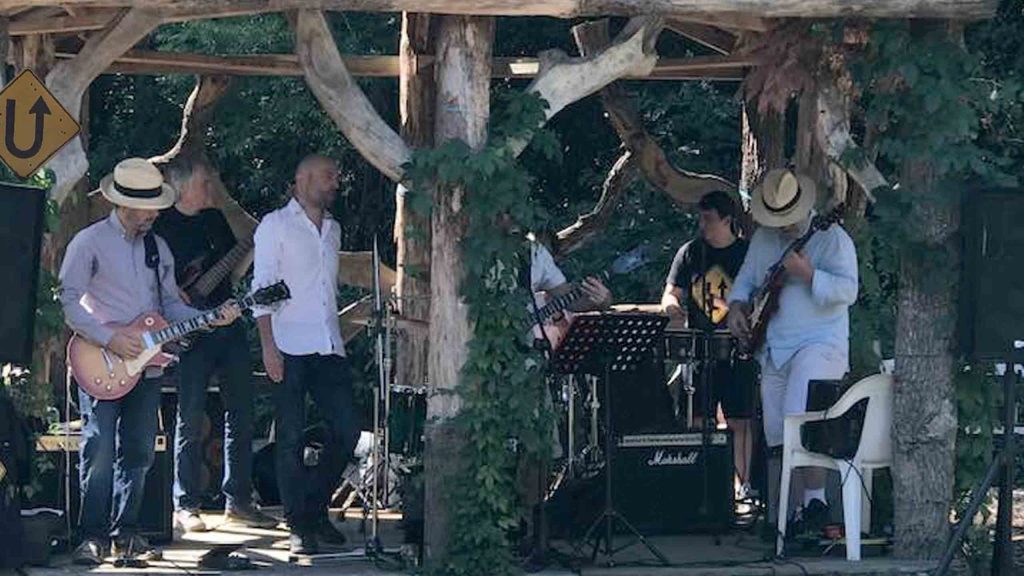 Playing outdoors in the beer garden
We played outdoors on the rustic stage in the beer garden at The Halfway House in Brenchley, Kent. It was a scorching day with us due to come on at 12 noon. The beer garden opened at 12 noon with the beer garden already filling up – particularly the shaded areas! The beer festival featured 70 beers and 30 ciders so something for everyone!
Our aim was to play a relaxed set suitable for having a pint in the sunshine. Hopefully we achieved that and we had some good feedback.
Date: 25th August 2019
Time: 12.15 to 2.30pm
Gig Number XIII
Venue: The Halfway House, Horsmonden Road, Brenchley, Kent TN12 7AX
Set duration: 2 x 1 hour +
Vocals / Rhythm Guitar: Chris Bampton
Lead Guitar: Neil Rigby
Vocals / Blues Harp / Guitar: Rob Smith
Bass: Pete Billing
Drums: Pete Roberts
Special Guests: Van Greg (guitar) aka Axeman from Athens and Nick Cabrera-Banks (bongos) aka DJ Oxygen
U-Turn Set 1
Warm Up Blues in A – U-Turn
She Caught the Katy – Taj Mahal / The Blues Brothers
Long Grey Mare – Fleetwood Mac
Route 66 – Chuck Berry / Rolling Stones
All Summer Long – Kid Rock
Feelin' Alright – Rare Earth
Crazy – Gnarls Barkley
She's Not There – Santana / The Zombies
Get Down Saturday Night – Oliver Cheatham
Break for a wander around the beer festival and a pint!
U-Turn Set 2
Rappers Delight – Sugarhill Gang
Cocaine – JJ Cale / Eric Clapton
Lady Writer – Dire Straits
A Song for the Lovers – Richard Ashcroft
Crossroads – Robert Johnson / Cream
Every 1's a Winner – Hot Chocolate
Groove is in the Heart – Deelite
Move on Up – Curtis Mayfield
Can't Get Enough – Bad Company
Louie Louie – The Kingsmen / Motörhead
Useful links