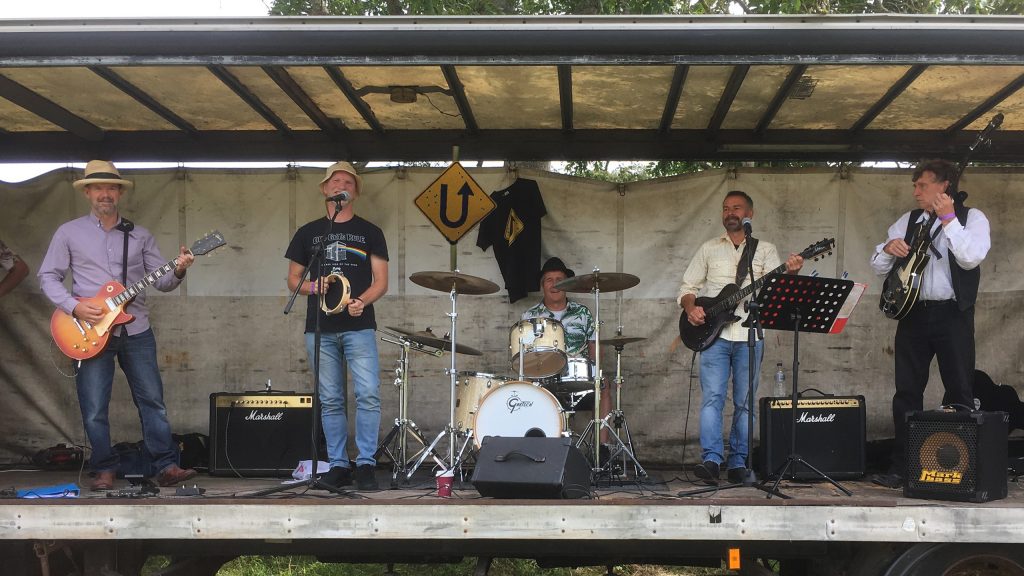 Outdoor gig in the beautiful Sussex countryside
We played outdoors on a trailer stage at The Rural Past Times Country Show at the Pestalozzi Village in Sedlescombe, East Sussex. We played on a large lorry trailer stage with hay bale steps! The show provides an insight into the history of farming and other aspects of country pursuits, crafts and handicrafts and cottage industries.
We spent a very enjoyable lunch hour having a look round the show and watched several displays from horse drawn and vintage tractor ploughing, military vehicles, classic motorcycles, ferret racing, sheep herding and lots of old time gadgets and skills.
Date: 11th August 2019
Gig Number XII
Venue: Pestalozzi Village, Sedlescombe, East Sussex TN33 0UF
Set duration: 2 x 1 hour +
Vocals / Rhythm Guitar: Chris Bampton
Lead Guitar: Neil Rigby
Vocals / Blues Harp: Tim Veysey-Smith
Bass: Chris Hinman
Drums: Del Johnson
U-Turn Set 1
Warm Up Blues in E – U-Turn
Feelin' Alright – Rare Earth
Route 66 – Chuck Berry / Rolling Stones
Going Up the Country – Canned Heat
One Bourbon, One Scotch, One Beer – John Lee Hooker / George Thorogood and the Destroyers
She Caught the Katy – Taj Mahal / The Blues Brothers
All Summer Long – Kid Rock
Crossroads – Robert Johnson / Cream
I Can't Explain – The Who
A Song for the Lovers – Richard Ashcroft
Lady Writer – Dire Straits
Break for a wander around the Country Fair for an hour while Duck Soup (Nick Kelly) entertains the crowd.
U-Turn Set 2
That's What Love Will Make You Do – Little Milton / Gerry Garcia Band
Sweet Home Chicago – Robert Johnson / Eric Clapton
I Can Tell – Dr Feelgood
Long Grey Mare – Fleetwood Mac
Move on Up – Curtis Mayfield
Midnight Hour – Wilson Pickett
She's Not There – Santana / The Zombies
Messin' with the Kid – Junior Wells and Buddy Guy
I'm So Glad – Cream
Louie Louie – The Kingsmen / Motörhead
Johnny B Goode – Chuck Berry
Useful links