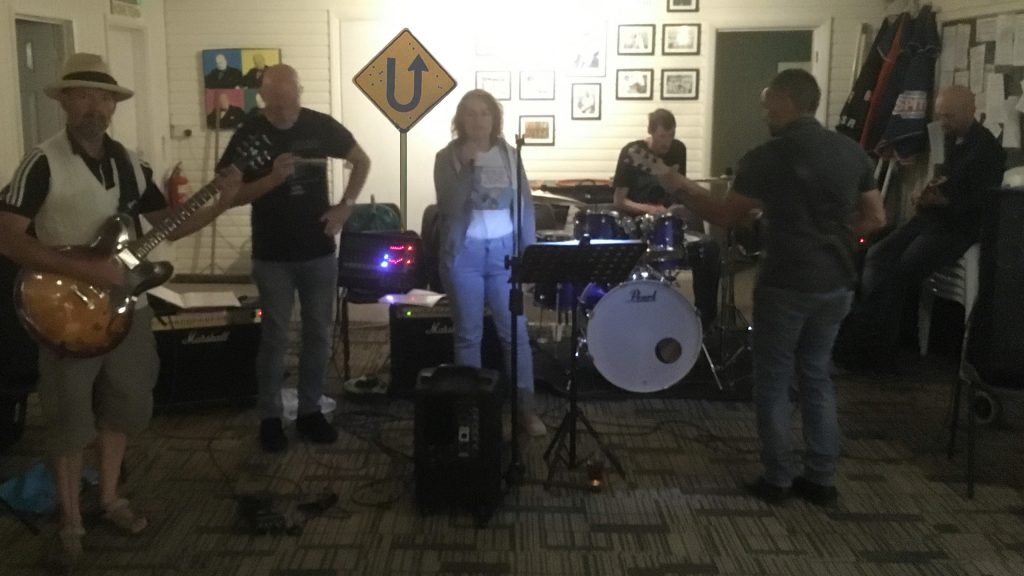 Live music at the end of Cricket Week
Horsmonden Cricket Club – one the oldest cricket club's in the world (1738) – have a regular cricket week featuring different cricket match formats such as 40/40, Six-a-Side, timed matches and Twenty20. Tonight's match was the annual fun Twenty20 HCC vs The Gun – Horsmonden's famous historic pub.
U-Turn provided some live music at the end of this long week with Steve Hatch making his debut and guest singers Sue Lovell and Eric Waters aka The Singing Umpire #singingumpire joining in.
Date: 9th August 2019
Gig Number XI
Venue: Horsmonden Cricket Club, Kent
Set duration: 2 hours +
Vocals / Rhythm Guitar: Chris Bampton
Lead Guitar: Neil Rigby
Vocals / Blues Harp: Tim Veysey-Smith
Bass: Rob Smith
Drums: Steve Hatch
U-Turn Set
She Caught the Katy – Taj Mahal / The Blues Brothers
Route 66 – Chuck Berry / Rolling Stones
All Summer Long – Kid Rock
Love Potion No.9 – The Coasters / The Searchers
With Sue Lovell…
Dreadlock Holiday – 10cc
Holiday – Madonna
Johnny B Goode – Chuck Berry
With Eric Waters aka The Singing Umpire #singingumpire
Not Fade Away – Buddy Holly
Summertime Blues – Eddie Cochran
Peggy Sue – Buddy Holly
Rave On – Buddy Holly
Going Up the Country – Canned Heat
I Can't Explain – The Who
Long Grey Mare – Fleetwood Mac
A Song for the Lovers – Richard Ashcroft
That's What Love Will Make You Do – Little Milton / Gerry Garcia Band
I Can Tell – Dr Feelgood
Midnight Hour – Wilson Pickett
Messin' with the Kid – Junior Wells and Buddy Guy
I'm So Glad – Cream
Louie Louie – The Kingsmen / Motörhead
Move on Up – Curtis Mayfield
Useful links