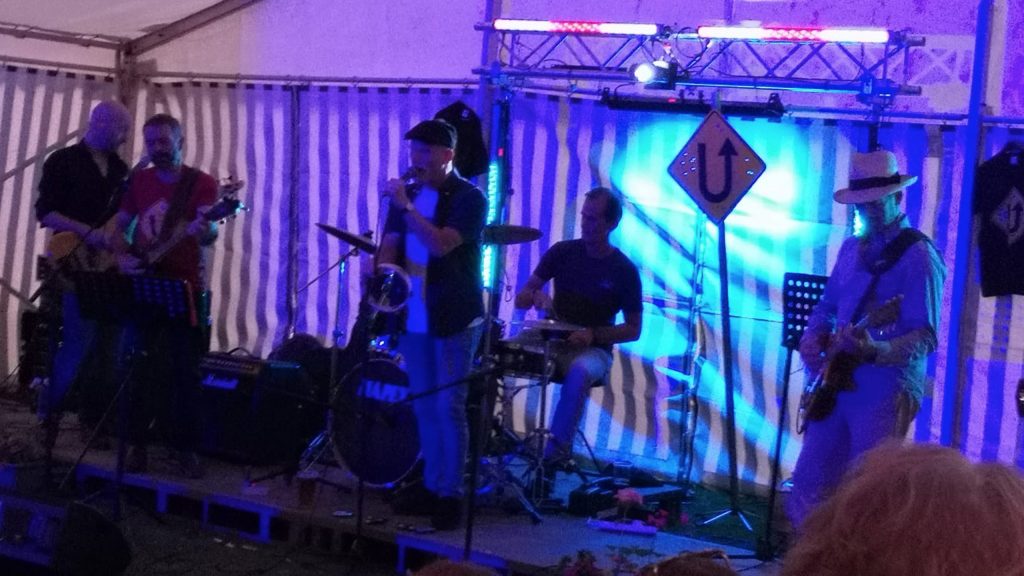 Marquee gig at the Friday night music night
We played in the marquee at Capel Fete-Ival, the Capel Fete Friday night family function.
On before U-Turn were the community band the Foghorns. They were set up several years ago specifically to perform here and have done so ever since.
Next up was Tommy Ludford, a very talented singer songwriter who appeared on The X Factor in 2018. He famously fell off the stage, which was probably a bit embarrassing at the time, but has raised his profile with YouTube views of over 750k! Keep an eye out for him as he is gigging around quite a lot.
Surprisingly everything was actually ahead of schedule which meant we started a little earlier and we played the best part of an hour. Our rhythm section were Rob Smith and Pete Roberts.
The big surprise of the night was Rocket Man playing aloft from a tin foil dressed JCB. He played David Bowie's Space Oddity and Elton John's Rocket Man with a back drop of a beautiful sunset.
The weather was superb which brings in a big crowd and really makes these occasions. We thoroughly enjoyed ourselves playing and meeting the organisers and crew at Capel Fete-Ival.
Date: 5th July 2019
Gig Number 9
Venue: Capel Fete-Ival Marquee at Five Oak Green Recreation Ground, Five Oak Green, Kent
Set duration: 1 hour
Vocals / Rhythm Guitar: Chris Bampton
Lead Guitar: Neil Rigby
Vocals / Blues Harp: Tim Veysey-Smith
Bass: Rob Smith
Drums: Pete Roberts
U-Turn Set
Song for the Lovers – Richard Ashcroft
Move on Up – Curtis Mayfield
Sweet Home Chicago – Eric Clapton / The Blues Brothers
That's What Love Will Make You Do – Little Milton
She's Not There – Santana
Midnight Hour – Wilson Pickett
I Can Tell – Dr Feelgood
Messin' with the Kid – Junior Wells
Long Grey Mare – Fleetwood Mac
I'm So Glad – Cream
Louie Louie – The Kingsmen
Johnny B Goode – Chuck Berry