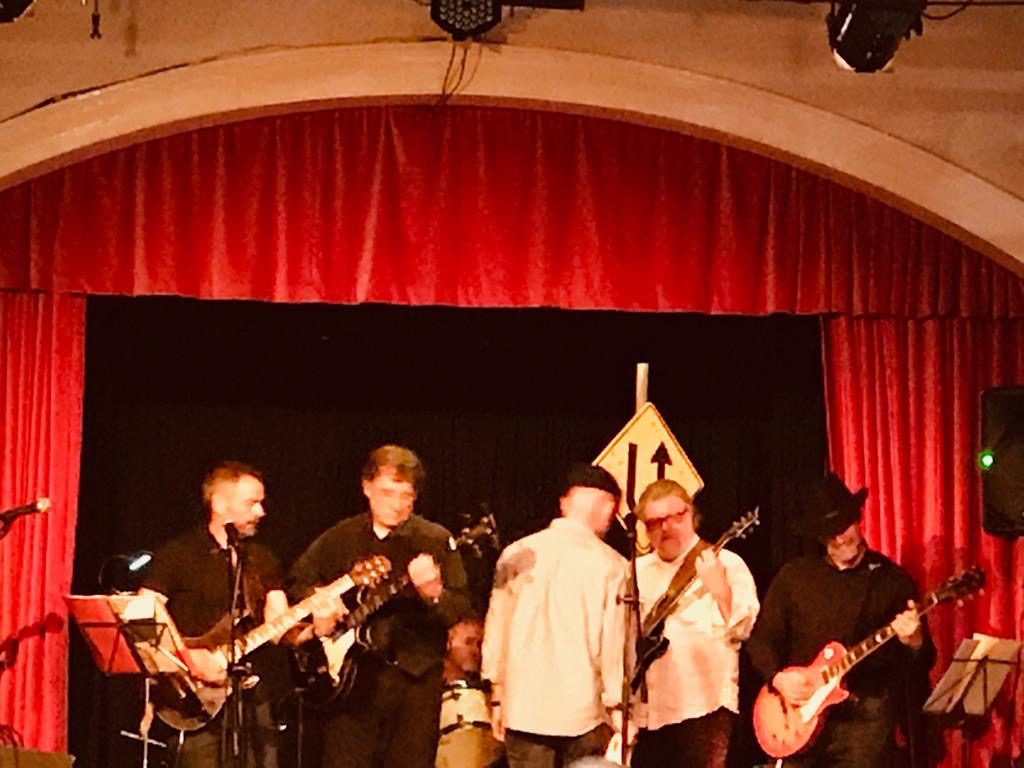 Playing the Blues for your function
We are a guitar orientated rhythm and blues blues band playing a variety of blues and rock & roll numbers from traditional to contemporary. We can play any particular songs if requested in advance.
It all started when we put together a blues band for a recent function taking the blues numbers from our U-Turn band and adding in Old Wave Tim's blues numbers to play for an hour and a half.
Typical line up would be rhythm guitar/vocals, vocals/harmonica, lead guitar, bass and drums. We are able to add other elements such as brass and guest musicians if required and available. We are all experienced musicians who play regularly.
We have all our own equipment so just require power and a suitable dry place to play.
Location
U-Turn Blues Band are located near Tunbridge Wells, Kent but we are willing to travel pretty much anywhere.
Equipment
We have all our own equipment and only need a space to play and power. Full details on our Equipment page.
Booking
If you are interesting in hiring us for your function please contact Neil.
Typical songs
Work Together – Canned Heat
She Caught the Katy – Taj Mahal / The Blues Brothers
Route 66 – Chuck Berry / Rolling Stones
I Put a Spell on You – Creedence Clearwater Revival
Baby Please don't go – Muddy Waters / Them
Hide Away (Instrumental) – Freddie King / John Mayall & The Bluesbreakers
Crossroads – Robert Johnson / Cream / John Mayer
Going Up the Country – Canned Heat
Sweet Home Chicago – Robert Johnson / Blues Brothers
That's what love will make you do – Little Milton / Jerry Garcia Band
She's Not There – The Zombies / Santana
Johnny B Goode – Chuck Berry
Soul Man – Sam & Dave / The Blues Brothers
Hard to Handle – Otis Redding / Black Crowes / The Commitments
Only Rock 'n' Roll – Rolling Stones
What I Say – Ray Charles
Midnight Hour – Wilson Pickett / The Commitments
Roll Over Beethoven – Chuck Berry / The Beatles
Milk & Alcohol – Dr. Feelgood
Messin' with the Kid – Junior Wells and Buddy Guy
I Can Tell – Bo Diddley / The Pirates
Smokestack Lightnin' – Howlin' Wolf
Down at the Doctors – Dr. Feelgood
Bye Bye Johnny – Chuck Berry
Boom Boom – John Lee Hooker
Little Red Rooster – Howlin' Wolf
…and many more!
We are working on new songs every week and are happy to take requests in advance.
Video
Mobile phone footage but gives you an idea. We'll add some of Tim's numbers soon!